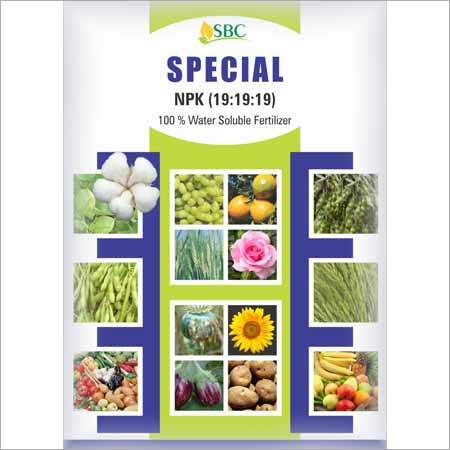 Special NPK (19:19:19)
Product Code : 07
Product Description
Special NPK (19:19:19) -
Special NPK (19-19-19) supplies the soil nutrients such as Nitrogen, Phosphorus and Potassium in equal proportion. Useful for all crops as a foliar spray, it helps in improving reproductive and vegetative activities in the plant system.
Content:
N (Nitrogen) : 19%
P (Phosphorous) : 19%
K (Potassium) : 19%
Benefits:
Environment- Friendly
Improves Quality
Increases Biomass Production In Plants
Improves Bearing Of Flowers & Fruits
Enhances Product Capacity Of The Crops
No Harm To The Crops, Human As Well As Other Animal Health
Effective Way To Control The Pests
Recommended Crops:
Sugar Beets, Legumes, Tomato, Onion, Potato, Groundnut,& other Vegetables crops.
Cereals & Fibres ( Rice, Wheat, Maize, Cotton, etc.).
Fruits ( Pomegranates, Apple, Grapes, Banana, Mango, Citrus, Strawberry, etc.) and other fruits.
Flower ( Marigold, Carnation, Gerbera, Roses etc.) & other flowers.
Commercial crops like Sugarcane, Tea & Coffee, etc.
Dosage & Application:
Foliar Application - 100 gm per pump or 15 liter water.
Soil Application - 5 kg per acre.

Packing Available - 1 kg, 25 kg & Bulk.