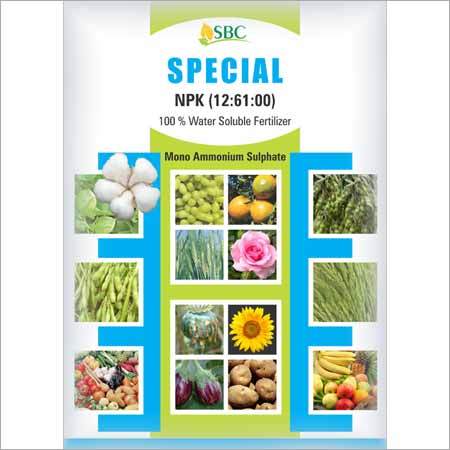 Special NPK (12:61:00)
Product Code : 13
Product Description
Special NPK (12:61:00)
Special NPK (12-61-00) is a Water Soluble Fertilizer that contains Nitrogen 12% & Phosphorous 61%.
It is a great source of N & P for plants, specially used at growth stages. It can be used for all types of crops.
Content:
N (Nitrogen) : 12%
P (Phosphorous) : 61%
K (Potassium) : 00%
Advantages:
100 % Water Soluble Fertilizer

Free From Sodium, Chlorine & Heavy Metal

Excellent For Fast & Bumper White Root Development

Assures Improvement In Cell Wall Strength

Helps Plant Tolerate Disease & Insect Infection

Suitable For All Fertigation Systems Through Drip Irrigation, NFT, Sprinklers, etc.
Recommended Crops:
Flower ( Gerbera, Roses, Marigold, Carnation, etc.).
Commercial Crops like Sugarcane, Tea & Coffee, etc.
Tomato, Onion, Potato, Groundnut, Sugar beets, Legumes other Vegetables crops.
Cereals & Fibres ( Cotton, Rice, Wheat, Maize, etc.).
Fruits ( Apple, Grapes, Banana, Citrus, Mango, Pomegranates, Strawberry, etc.).
Dosage & Application:
Foliar Application:- 100 gm per pump or 15 liter water.
Soil Application: - 5 kg per acre.

Packing Available: - 1 kg, 25 kg & Bulk