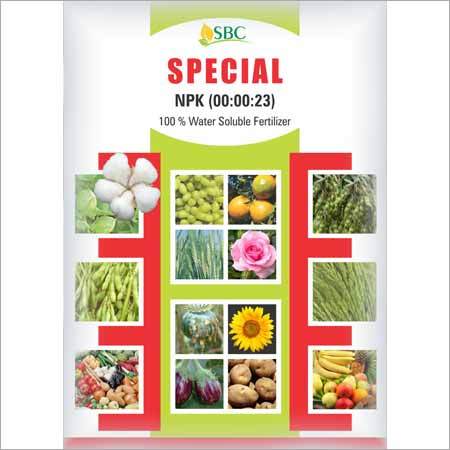 Special NPK (00:00:23)
Product Code : 12
Product Description
Special NPK (00:00:23) -
Special NPK (00:00:23) is a fully water soluble fertilizer ric h in quality nutrient-Potassium that helps in proper growth & reproduction of plants.
Content :
N (Nitrogen) : 00%
P (Phosphorous) : 00%
K (Potassium) : 23%
Advantages:
Ideal For All Crops
Excellent Product With High Potassium
Complete Plant Food At This Stage Of Development
Helps Plant With Physiological & Environmental Stress Resistance
It's Good Vegetative Development Gives Scope For Good Yield
Recommended Crops:
Tomato, Onion, Potato, Groundnut, Sugar beets, Legumes other Vegetables crops.
Cereals & Fibres ( Rice, Wheat, Maize, Cotton, etc.).
Commercial crops such as Sugarcane, Tea & Coffee, etc.
Flower ( Gerbera, Roses, Marigold, Carnation, etc.) & other flowers.
Fruits ( Grapes, Banana, Mango, Pomegranates, Apple, Citrus, Strawberry, etc.) and other fruits.
Dosage & Application:
Foliar Application:- 100 gm per pump or 15 litre water.
Soil Application: - 5 kg per acre.
Packing Available:
1 kg, 25 kg & Bulk.