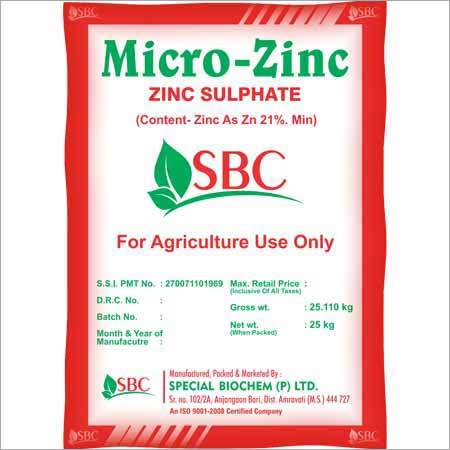 Micro Zinc
Product Code : 24
Product Description
"Micro-Zinc" (Zinc Sulphate-21%)
Micro-Zinc incorporates Zinc Sulphate Heptahydrate (ZnSO4 7H2O), as Zn 21 %. It is released slowly, and thus remains in an available form for a long time period. It ensures optimum utilization of the nutrient by reducing the loss, leaching in minimum. It is very essential for the process of oxidation in plant cell, also it improves the content of protein, sugar, tannin and lipids in plants and seeds.
Content: Zinc Sulphate Heptahydrate (ZnSO4 7H2O) - 21 %.
Benefits:
It ensures improvement in root and shoot system.

Imparts resistance to diseases, pests and stress conditions and enhances the flowering.

Increases the crop yield as it helps in grain filling.

Method & Application:
Soil Application: 5 to 10 kg has to be properly blended with inert material and major fertilizer, broadcast uniformly on land of one acre.
Recommended Crops:
Rice, Wheat, Maize, Sorghum, Sugarcane, Pigeon Pea, Soyabean, Cotton, Sunflower, Groundnut and Safflower, Vegetables (Tomato, Okra, Brinjal, Chilly, etc.), Tea & Coffee, Fruits Crops, and all Commercial Crops.
Packing Available: 1 kg, 5 kg and Bulk.