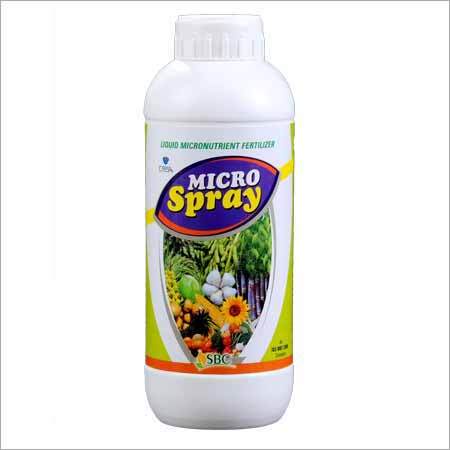 Micro Spray Liquid
Product Code : 26
Product Description
"Micro-Spray" Liquid -
Containing micro-nutrients the Micro Spray is a liquid fertilizer. Its utilization in spray form generates healthy plant growth, which ultimately imparts better yield. It is a research-based fertilizer provides essential plant nutrients such as Iron, Manganese, Zinc, Copper in partially chelated form, and Boron & Molybdenum in preset proportions. The Micro Spray is developed for Foliar application.
Content: It is different in every state.
Benefits:

High Yield.

Improves Quality of Crops.

Stop Shedding of Fruits.

Support Faster Growth of Plant.
Recommended Crops:
Wheat, Sorghum, Maize, Sugarcane, Rice, Cotton, Sunflower, Safflower, Pigeon Pea, Groundnut, Soyabean and Vegetables like Tomato, Brinjal, Okra, Chillies etc., all Fruits Crops.
Dose: Prepare a mixture of 300 ml Micro-Spray in 100 Liters of Water. Spray uniformly on Crop Foliage.
Available Packing: 1 kg , 5 kg and Bulk.