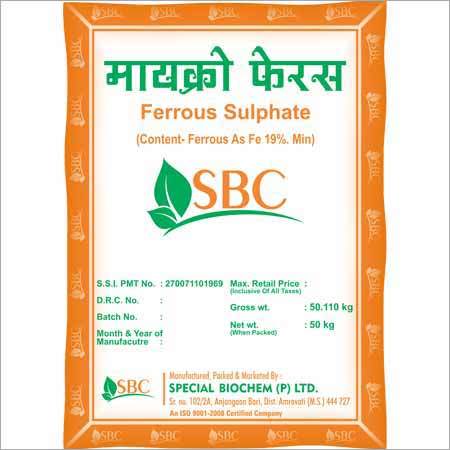 Micro Ferrous
Product Code : 20
Product Description
Being a reputed firm, we have successfully been engaged in manufacturing, exporting and supplying pristine quality Micro Ferrous. Under the ingenious professionals' supervision, this fertilizer is processed using top grade chemical compounds and iron elements with the aid of sophisticated techniques. The offered fertilizer improves the content of protein, sugar, lipids in various seeds and plants. In addition to this, the offered Micro Ferrous (Zinc Sulphate) can be purchased by our precious clients at competitive prices from us.

Key points:

Acts as an iron supplement
Reduces micro-nutrient deficiencies in crops
Enhances the growth of plants and seeds
"Micro-Ferrous" (Ferrous Sulphate-19 %)
Ferrous Sulphate plays an essential role in plant growth. Required in a small quantity, it is important for plants physiology like Enzyme formation (Photosynthesis), Fruit & Flower Formation, Root, and other plant processes. It is necessary for oxidation process in plant cell, and it improves the content of protein, sugar, lipids and tannin in plants & seeds.
Content: Ferrous Sulphate (Fe) -19%
Benefits:

It helps in plant growth and increases yield in all crops.
It is a necessary micronutrient.
It efficiently corrects the deficiency of ferrous in all crops.
It prevents minor as well as major micronutrient deficiencies in crops.
Dosage & Application:

Utilize 25 kg for a hectare through soil at an interval of 8 to 15 days on crops.
Recommended Crops:

Rice, Wheat, Maize, Sorghum, Sugarcane, Cotton, Soyabean, Pigeon Pea, Sunflower, Groundnut and Vegetables (Tomato, Okra, Brinjal, Chilly and more), Tea & Coffee, and all other Fruits Crops.
Available Packing: 1 kg, 5 kg and Bulk.