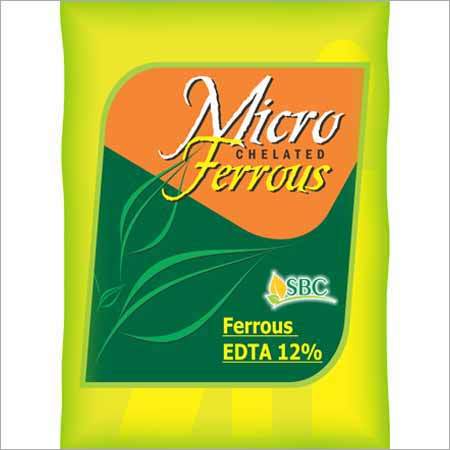 Micro Chelated Ferrous
Product Code : 14
Product Description
"Micro Chelated Ferrous" (Ferrous EDTA-12%) -
This is an excellent source of iron, which is a micronutrient required for plant growth. Lack of iron can cause disorders like iron colorists that results in reduction in yield. Micro Chelated Ferrous 100 % with EDTA, is a very important source to perfect the Iron deficiency of all crops. As it is chelated, it perfectly absorbed by the plants. The Micro Chelated Ferrous when used in soil application or as foliar spray, the plant system quickly absorbs the Iron. Excellent for oxidation process in plant cell, it helps in improving the content of sugar, protein, tannin and lipids in plants / seeds.
Content:
Ferrous (Iron), expressed as Fe, Ferrous EDTA-12 %.
Benefits:

Highly Effective fertilizer for perfecting zinc deficiency.

Fully chelated with EDTA, and hence entire zinc is available to the plants.

It helps in grain filling.

Increases the crop yield.

Provide better development in root & shoot system.
Dosage & Application:
In 100 liters of water, dissolve 50 gm of Micro Chelated Ferrous, and spray on both sides of leaves in morning /evening time. This amount is adequate for half acre of standing crop.
Recommended Crops:
Rice, Sorghum, Wheat, Maize, Sugarcane, Soyabean, Sunflower, Cotton, Pigeon Pea, Groundnut and Vegetables (Tomato, Chillies, Brinjal, Okra, etc.), Fruits Crops, Tea & Coffee and other Commercial Crops.
Available Packing: 1 kg, 5 kg and Bulk.