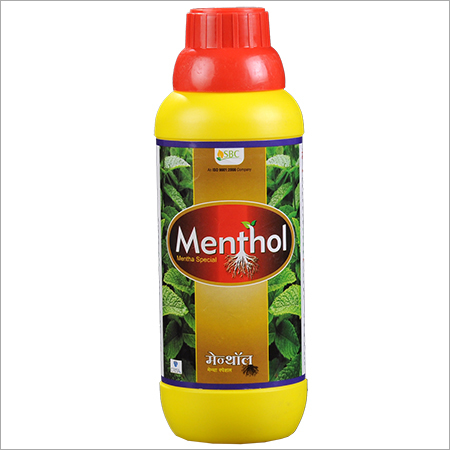 Menthol
Product Code : 19
Product Description
Menthol Mentha Special is developed as a nutrition product based on Bio-Technological method. It acts as a nutritional support during critical stages of plant growth by providing essential nutrients in easily available form.
Chemical composition
Pottasium Humate : 12 % w/v
Hydrolysed Proteins : 4 % w/v
Fulvic Acid : 1 % w/v
Buffer & Diluent : 83 % w/v
Total :100 % w/v
Benefits
Improves helps in healthy plants growth.
Improves the root zone, chlorophyll and vitamin contents.
Improves uptake of micro and macro nutrients and assists in their translocation to different parts of the plant.
Activates enzymatic processes and improves the drought resistance capacity of the plant.
Improves the size of the leaves, promotes late bolting and increases the oil percentage resulting in and quantitative increase in the yield.
Dosage & Application:
Menthol can be used as a foliar spray@ 2-3 ml per liter of water.
First application 15-20 days after transplantation and second application after 20-30 days interval.
Packing available
250ml,500ml,1litre.