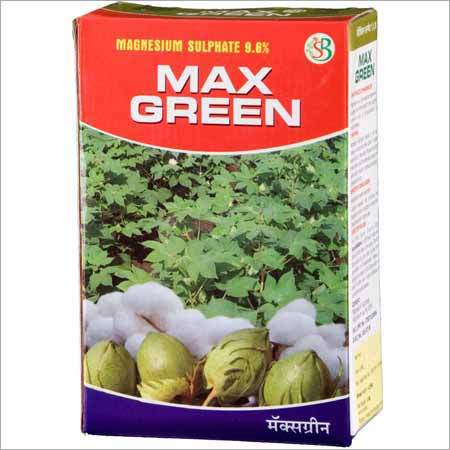 Magnesium Sulphate Fertilizer
Product Code : 15
45 Per KG INR
Price And Quantity
Minimum Order Quantity

:

500
Unit of Measure

:

Kilograms/Kilograms
Product Specifications
Active Ingredient

:

Magnesium sulphate (Mg) - 9.6%
Properties

:

1- Keep plants healthy and green.2- Resist Diseases and enhances the absorption of other important nutrients from the soil resulting in higher yield.3- Reduce the incidence of nutrient leading.4- Promote plant growth by stimulating cell division.5- It helps in growth and high yield of all crops
State

:

Powder
Product Description
"Max Green" (Magnesium Sulphate - 9.6%) -
Benefits:
Keep plants healthy & green.
Withstand diseases.
Support plant growth by stimulating cell division.
Reduce the frequency of nutrient leading.
Enhances the absorption of important nutrients from the soil, thus provide higher yield.
Recommended Crops:
Rice, Wheat, Sorghum, Maize, Cotton, Sugarcane, Soyabean, Safflower, Sunflower, Fruits Crops, Groundnut and Vegetables like Tomato, Brinjal, Chilly, etc.
Dose & Application:
For Foliar spray:
Dissolve 500 gms max-green in 200 liters of water, and then spray on both sides of the leaves. The first spray should be provided after 30 days from the transplantation or germination, repeat 2 sprays at a time interval of 20-25 days. In case of cotton schedules 3 sprays to control the disease of red leaf.
Packing available: 500 gm, 1 kg and 5 kg.