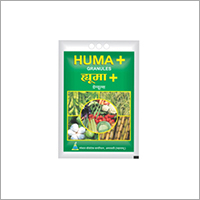 Huma Granules
Product Code : 12
Product Description
It encourages the development of beneficial soil microorganisms helping plants to resist the droughts. Resulting in higher yield & better quality of crops produce.
Chemical composition
Humic Acid :12%w/w
Bentonite granules : 88%w/w
Total :100%w/w
Recommended Crops
Soybean, Cotton, Paddy, Pulses, Citrus, Banana, Grapes, Tomatoes & Other Vegetable & Fruits, Huma is used on various crop.
Benefits
Improves soil structure by making the soil more porous permeable and aerated
Improves germination of seeds, roots development, chlorophyll & Vitamin Content.
Improves uptake and translocation of micro /macro nutrients, chlorophyll and vitamin content & stabilize PH
Reduce the incidence of nutrient leaching.
Dose
4 to 8 Kg per acre.
Packing available
8kg bucket & 40 kg Drum