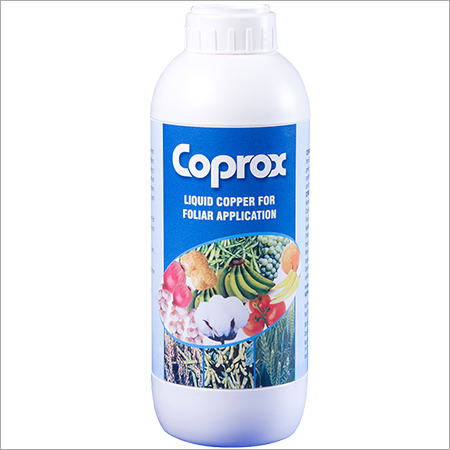 Coprox Plant Growth Promoter
Product Code : 03
Product Description
It is a unique product containing copper in liquid form. It is a secondary nutrient essential for the proper growth of plants so also has been traditionally used a safe and effective fungicide.
Chemicals Composition
Coprox Oxy chloride : 20%w/w
Carrier and
Fulvic Acid : 3% w/w
Diluent : 80%w/w
Total : 100%w/w
Benefits
It's well Controlled pH.
To control various diseases like roots, black spot light etc.
Promote plant growth by stimulating cell division.
Reduce the incidence of nutrient leaching.
in controls fungal infections.
Compatibility
Compatible with must of all pesticides/fungicides.
Recommended Crops
Tomato, Onion, Potato, Groundnut, Sugar beets, Legumes other Vegetables Crops, Cereals & Fibres ( Rice, Wheat, Maize, Cotton, etc), Fruits ( Grapes, Banana, Mango, Pomegranates, Apple, Citrus, Strawberry, etc), Flower ( Gerbera, Roses, Marigold, Carnation, etc), Sugarcane, Tea & Coffee, etc.
Dose
Mix 5ml Coprox in 1liter of water to spray over crops.
Packing available
250ml, 500ml, 1liter