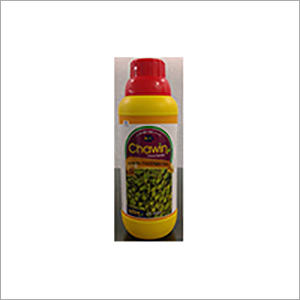 Product Description
Chawin is chana special is developed as a nutrition product based on Bio-Technological methods. It acts as a nutrition support during critical stages of plants growth by providing essential nutrients in easily available form.
Chemical composition
Combination of L-cystein : 80 %
Derivatives of Folic Acid : 5 %
Other Ingredient : 15 %
Total : 100 %
Recommended Crops
Chana Special.
Benefits
Activates photosynthesis and increases the percentage of chlorophyll.
Initiates various physiological and chemical plant processes that are vital for healthy plant growth .
Increases the percentage of flowers and helps in the setting of fruits.
Helps the plant to overcome stress.
Improves quality, yield and luster, improves shelf life of the produce.
Strengthens the process of flowering to pod formation.
Dose
2ml per liter water to spray on crops. Spray during flowers and boll formation stages.
Packing available
250ml, 500ml and 1liter.