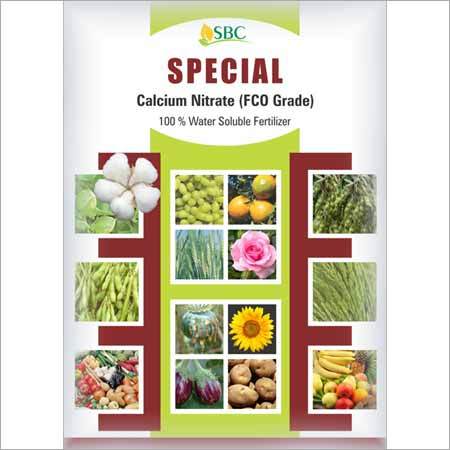 Calcium Nitrate
Product Code : 05
Product Description
Calcium Nitrate
Calcium Nitrate is a water soluble fertilizer, which is a very important source of secondary nutrient- Calcium for plants. The deficit of which will cause many physiological disorders in crops. It is formulated with composition of Calcium (Ca) 18.8 % and Total Nitrogen (N) 15.5 %.
Advantages:
Efficiently Absorbed By Plants

Boost Growth Of Crops

Cell Elongation & Division

Facilitates Uptake Of Potash (k) Over Sodium (Na)

Corrects Plant Deficiencies In Calcium & High Soil PH
Recommended Crops:
Fruits ( Mango, Pomegranates, Apple, Grapes, Banana, Citrus, Strawberry, etc.).
Flower ( Gerbera, Roses, Marigold, Carnation, etc)
Commercial crops like Sugarcane, Tea & Coffee, etc.
Potato, Groundnut, Sugar Beets, Tomato, Onion, Legumes other Vegetables Crops.
Cereals & Fibres ( Rice, Wheat, Maize, Cotton, etc.).
Dosage & Application:
Foliar Application - 100 gm per pump or 15 liter water.
Soil Application - 5 kg per acre.
Packing Available: - 1 kg, 25 kg & Bulk.