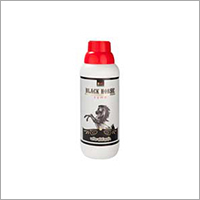 Black Horse
Product Code : 13
Product Description
Chemicals Composition
Sea Weed Extract : 5%w/w
Hydrolyzed Protein : 12%w/w
Stabilizer : 0.2%w/w
Diluent Buffer : 82.8%w/w
Adjuents
Total 100%w/w
Benefits
Increase yields.
Improve crop quality.
Gives Longer shelf life of produce.
Compatible with pesticides.
Safe to use –non toxic.
Increase resistances to diseases to diseases and climatic stress.
Recommend Crops
Cotton, Vegetable, chilly, Soya bean Potato, sunflower, Ground nut, Banana ,Mango, Grapes, Lemon, Orange, Wheat, Chiku, Sweet Lemon. etc. for all the crops.
Dose
200ml per acre or 500ml per hector.
Packing Available
1litr, 500ml, 250ml.