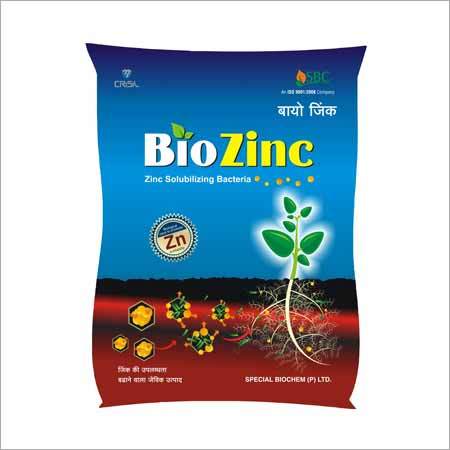 Bio Zinc Pouch Biofertilizer
Product Code : 45
Product Description
"Bio-Zinc( Zinc Solubilizing Bacteria Biofertilizer)" Pouch-
Works as a metal activator, Zinc is a macro important nutrient. Shortage of Zinc causes considerable losses in yield and the plants are subject to diseases. First symptoms are interveinal chlorosis that lead a decrease in shoot growth as well as shorting of little leaf, middle leaf, etc. Availability of zinc is restricted for the soil having value of pH more than 7.
Composition
Microorganism Name : Zinc Solubilizing Bacteria.
Viable Cell Count: CFU Count 5x108 cell per gram of formulation.
pH : 6.5 - 7.5
Physical properties : Roasted Bentonite clay granules with moisture 15-20% content.
Benefits
Improves availability of zinc in soil.

Appropriate for all crops.

Increase crop yield and improves soil health by raising the nutrient content.

It is necessary for the formation of plant cells.

Helps to decrease the pH of the soil.
Dosage & Application
2kg per acre.
Blend Bio-Zinc and other Biopesticides / Biofertilizer with fully decomposed organic manure / soil, 10 to 20 kg per acre from the same piece of land.
In case of orchards, apply 50-100 gm Bio-zinc mixed with 1-2 kg organic manure per tree twice a year.
Recommended Crops
Wheat, Sorghum, Jowar, Rice, Sugarcane, Cotton, Maize, Pigeon Pea, Sunflower, Soyabean, Groundnut and Vegetables (Tomato, Brinjal, Chillies, Potato, Okra, Citrus, Onion), All types of vegetable plants, Garden Plants, Pulses, Cereals Crop, Medicinal Plants, and other Fruits Crops.
Packing Available: 2 Kg and Bulk.