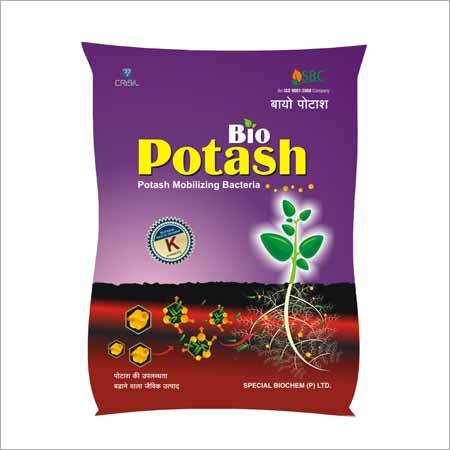 Bio Potash Biofertilizer
Product Code : 46
Product Description
"Bio Potash(Potash Mobilizing Bacteria Biofertilizer)" Pouch -
Potash Mobilizing Bacteria, Bio-Potash consists Frateuria aurentia. After Phosphorous and Nitrogen, Potash is also a major nutrient necessary for all crops. Potash (K) is a necessary plant nutrient which perfectly works for the growth of plants. It increases the ability of plants to withstand pests attack and diseases, also to sustain other unfavorable environmental condition.
Composition
Microorganism Name :Frateuria aurentia
Viable Cell Count : CFU Count 5x108 cell per gram of formulation.
Physical properties : Roasted Bentonite Clay granules having 15-20% moisture content.
pH : 6.5 - 7.5
Benefits
Improves potash availability in soil.

Suitable for all crops.

It increases the crop yield and enhances the soil health by creating nutrient content.

It is essential for plant cells formation.

Convert insoluble inorganic potash into soluble & simple form, easily available to plants.

Eco-friendly and Safe microbial formation.

It mobilizes potash in the plants, suited for all types of soil.

Isolated & cultured from general environment the strains give best result.
Dosage & Application
2kg per acre.
Create a mixture of Bio-Potash and Biopesticides / Biofertilizer, with fully decomposed organic manure / soil, 10 to 20 kg per acre from the same piece of land.
Recommended Crops
Cereals (Wheat, Maize, Paddy, Barely), Pulses, Oil Seeds, Vegetables, Spices, Condiment, Fruits (Grapes, Orange, Banana, Apple, Pomegranate), Flowers, Medicinal and Aromatic Plants, Sugarcane, Cotton, etc.
Packing Available: 2Kg.