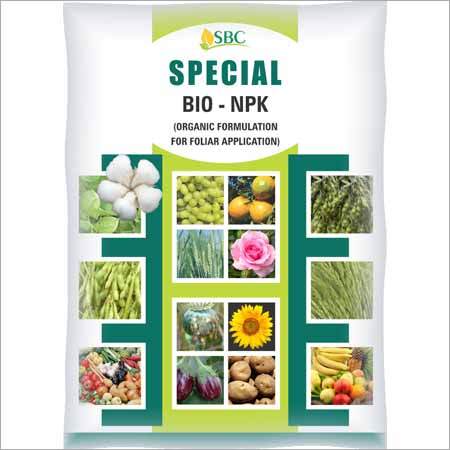 Bio Npk Biofertilizer
Product Code : 30
Product Description
Bio Npk
Our Special Bio-NPK organic product high on NPK content is derived from 100% organic ingredients is ideal for all crops.
Chemical Composition
N (Sodium) : 10% approx.
P (Phosphorous) : 10% approx.
K (Potassium) : 10% approx.
Organic Carbon : 15%
Advantages
Environment- Friendly

Makes The Soil Rich Over Time

Reduces The Dependency On Chemical Fertilizers

Enhances Product Capacity Of Crops

Helps In Maintaining The Soil PH & Increases The Root Growth
Recommended Crops
Tomato, Onion, Potato, Groundnut, Sugar beets, Legumes & other Vegetables crops.
Cereals & Fibres ( Rice, Wheat, Maize, Cotton, etc.)
Fruits ( Grapes, Banana, Mango, Pomegranates, Apple, Citrus, Strawberry, etc.) and other fruits.
Flower ( Gerbera, Roses, Marigold, Carnation, etc) & other flowers.
Commercial crops like Sugarcane, Tea & Coffee, etc.

Dosage: 50 gms per pump per 15 litre water for spray after plucking.
Packing Available: 500gm,1kg, 25kg & Bulk.