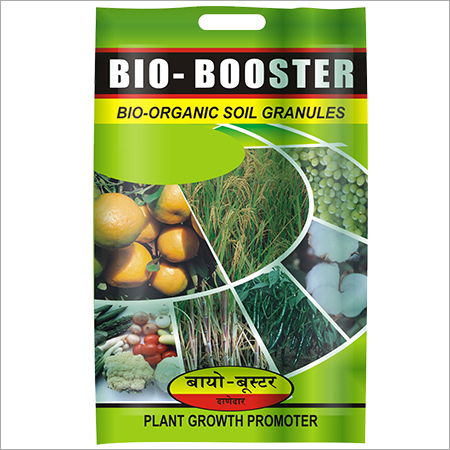 Bio Booster Plant Growth Promoter
Product Code : 02
Product Description
It is an effective PGP(Plant Growth Promoter) & gives an improved yield to the plants.
Chemicals Composition
Hydrolyzed Protein : 3% w/w
Humic Acid : 6% w/w
Fulvic Acid : 3% w/w
Bentoniate Granules: 88%w/w
Total : 100%w/w
Benefits
Increases germination, promotes healthy growth of the shoots
Initiates profuse roots zone.
Increases water holding capacity of soil.
Improve soil fertility.
Improves activities of beneficial micro-organisms.
Recommend Crops
Cotton, Vegetable, chilly, Soya bean Potato, sunflower, Ground nut, Banana ,Mango, Grapes, Lemon, Orange, Wheat, Sweet Lemon.etc. for all the crops.
Dose
5 to 10 kg per Acre.

Packing Available
5kg bag, 8kg bucket.