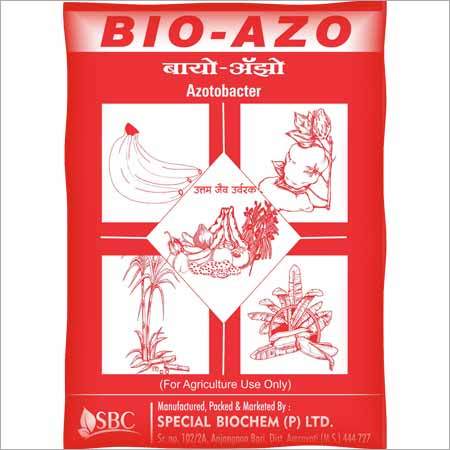 Bio Azo Biofertilizer
Product Code : 47
Product Description
"Bio-Azo (Azotobacter Biofertilizer)" Powder -

We are a profound processor and supplier of an ambit of Eco-friendly Azotobacter Bio Fertilizer. Our Bio-Azo is a nitrogen fixing bio-fertilizer that effectively absorbs atmospheric nitrogen (ammonia) for plants. It also helps to make substances which check the growth of unfavorable plant pathogens. As a result, the Bio-Azo (Azotobacter) is known as a valuable source in increasing the production of crops as well as germination of seeds. It is used for the treatment of seeds, soil and roots of seedlings.

Composition:

Microorganism Name : Azotobacter Chrococcum.
Viable Cell Count: CFU Count 1 x 108 cell/ml of liquid, 5 x 107 Cell /g of powder.
pH : 6.5 to 7.5
Benefits:

Deposited in soil, it produces vitamins, gibberellins & cytokines, indol acetic acid.
It improves plant growth & seed germination.
Benefits crops by fixation, by nitrogen, and growth promoting substances.
It partially solubilizes tricalcium phosphates to increase phosphorous in plant.
Better the activity of other beneficial root zone decomposers and thus improve the effectiveness of applied nitrogen fertilizer.
Minimizes chemical fertilizer doses up to 20%.
Increases 15% to 25 % yield of crop.
Fixes atmospheric nitrogen into nitrates hence make the soil more fertile.

Dosage & Applications

Foliar Spray:

Dissolve 1 Liter Bio-Azo in 200 liters of water, spray close to the root of the plant, choose morning or evening hours for the spray, for per acre.

Seed Treatment:

Dissolve 100 ml of Bio-Azo in 400 ml of water, apply to the seeds for one acre during the time of sowing.

Root Dipping:

Dissolve 100 ml Bio-Azo in 50 liters water, for 10 - 20 minutes dip the root of the plant before transplanting.

Soil Application:

1 liter Bio-Azo can be blended with 100 kg FYM. Blend the substance and use for over one acre land before the first ploughing.
3 kg of Bio-Azo blend with 250 kg FYM for 1 acre land.
1 kg of carrier base is adequate for 30 kg seed bags.

Recommended Crops:

Wheat, Rice, Sorghum, Maize, Sugarcane, Cotton, Soyabean, Sunflower, Pigeon Pea, Groundnut and Vegetables like (Tomato, Okra, Chilly, Brinjal, Potato, Onion, etc.), All types of vegetables plants, Pulses, Garden Plants, Cereals Crop, and for all other Fruits Crops.

Packing Available:
In Liquid Form - 500 ml, 1 liter, and bulk.
In Carrier Base - 500 gm, 1 kg and bulk.