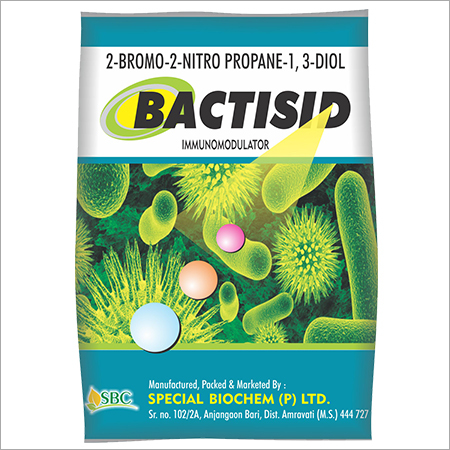 Bactisid Plant Growth Promoter
Product Code : 01
Product Specifications
Product Name

:

bactisid
State

:

Granules
Product Description
Bactisid is an immunomudulator. When used as prophylactic treatment reduces the susceptibility of plant to bacterial diseases, by modifying the immune system of the plants.
Chemicals Composition
2Bromo- 2nitro Propane-1, 3-Diol Immunomodulator.
Benefits
Promote plant growth by stimulating cell division.
Reduce the incidence of nutrient leaching.
Imparts resistance against bacterial diseases like Leaf Blight, Black-Arm, Canker, Angular leaf, Spot, Seedling Blight etc.
Recommended Crops
Tomato, Onion, Potato, Groundnut, Sugar beets, Legumes other Vegetables Crops, Cereals & Fibres ( Rice, Wheat, Maize, Cotton, etc), Fruits ( Grapes, Banana, Mango, Pomegranates, Apple, Citrus, Strawberry, etc), Flower ( Gerbera, Roses, Marigold, Carnation, etc), Sugarcane, Tea & Coffee, etc.
Dose
20gm to be dissolved in 60litre water & sprayed.
Packing Available
20 Gm.