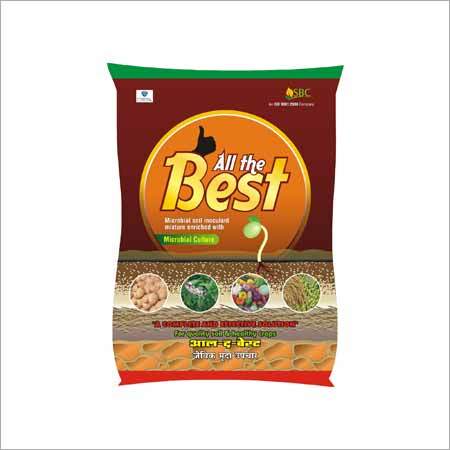 "All The Best"- Powder
Product Code : 34
Product Description
"All The Best" Powder -
It is a right blend of diverse plant nutrients in natural form and microbial cultures that enhances the productive capability of the soil, making it fertile. Also, it makes available various plant nutrients by transforming them into a soluble form that is easy to absorb by plants.
Chemical Composition:-
Microbial culture : 80% w/w.
Carrier Material : 20% w/w
Total : 100%w/w
Benefits:-
It increases the productive capacity of the soil.

Leaves no residual effects.

Solubilizes the chemical fertilizer remains.

Improve soil fertility.

It enhances the crop quality.

It minimizes the dosage of chemical fertilizer.

It makes internal defense mechanism of plants more strong to fight against different pests.
Recommended Crops:-
Wheat, Paddy, Soyabean, Cotton, Sunflower, Sugarcane, Chilly, Tomato, Potato, Onion, Garlic, Grapes, Mango, Citrus, Banana, Fruits, Tea/Coffee, Plants etc. Also, it is useful for all crops.
Dose:-
In liquid form- Mix 1 liter of all-the-best (Microbial Culture) in 200 liters of water, and use it in soil.
In Carrier form- Mix 1 kg all-the-best (Microbial Culture) powder in 200 kg of farm-soil and use it over 1 acre of farm land.
Use 50 gm All-The-Best Powder per flower plant.

Packing Available:-

In Liquid Form - 500 ml, 1 liter and bulk.
In Carrier Form - 1 kg & Bulk Quantity.